Hydrotherapy is a form of physical rehabilitation therapy involving exercises in a pool. Many people experiencing problems with their joints and ligaments have found water gives an increased range of motion. Allowing them to share their joints needed exercise without pain.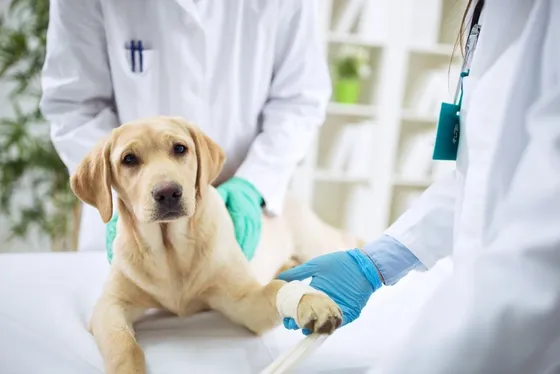 In addition, resistance from the water helps build up muscle. The water used in hydrotherapy can be warm to relax the muscles. Cool water usually works if inflammation is the problem. It works well for humans, but did you know it also works for man's best friend? Pet hydrotherapy is a service we provide at Valley Animal Rehabilitation.
Hydrotherapy for Your Pet
Veterinary hydrotherapy is similar to human patients, without needing a swimsuit! An underwater treadmill will encourage Fido to walk. At the same time, the water provides just enough buoyancy to give him more range of motion and just enough resistance to build his muscles and tendons. This therapy suits animals with orthopedic or related soft tissue trouble. Gradually, Fido's strength and flexibility will increase.
How Do Dogs Benefit from Hydrotherapy?
Hydrotherapy is an ideal form of physical therapy for dogs of the Sporting Group. These dogs include breeds of the spaniel and retriever variety. They are active dogs bred for hunting, and many such breeds have insulated water-resistant coats.
However, allowances can also be made for smaller, more sedentary breeds. If Fido's trouble comes from being too passive, some hydrotherapy may help. Dogs recovering from metabolic conditions, post-surgical recovery, arthritis, orthopedic injury, and other joint and muscle problems may find relief in hydrotherapy.
Pet Rehab in Montclair
We at Valley Animal Rehab have rehab technicians and a skilled veterinarian on hand to help your furry friend get back to their ultimate health goal. Whether your pet is recovering from injury or surgery, trying to shed some pounds, or adjusting to a ripe old age, we're ready to give your four-legged friend the help he needs.
You can call us today at (973) 509-5225. We will treat emergency cases, but make an appointment if you can. Then put a leash on Fido and take them to our office at 1171 Valley Road in Clifton, New Jersey.