Manual Therapy For Pets
When your pet is put under anesthesia for a medical procedure, the muscles become relaxed. As the body comes out of the anesthesia, the muscles need to be strengthened, stretched, and exercised to regain normal function.
There are many methods of strengthening the muscles used in animal rehabilitation. Valley Animal Rehabilitation in Montclair, NJ uses manual therapy in addition to other methods of rehab for pets.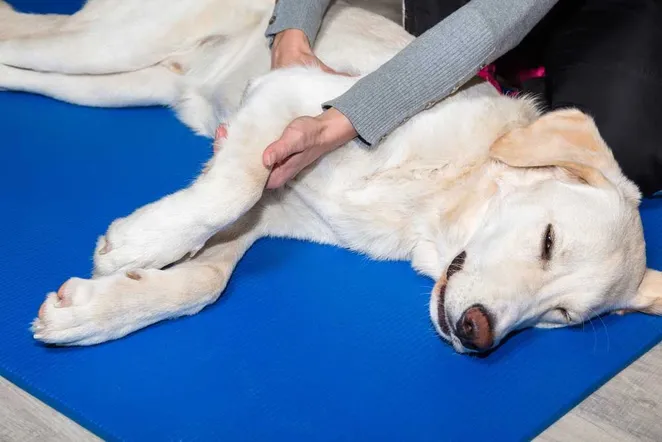 What Is Manual Therapy In Animal Rehabilitation?
Manual therapy will help your pet recover and feel more relaxed. Rehabilitation is the recovery of the body after a debilitating disease, operation, or medical treatment. Manual therapy means massage or chiropractic adjustments.
Massage gets down deep into a muscle or muscle group to eliminate knots or stretch the muscle as well as the tendons and ligaments.
What Effect Do These Have On Pets?
When the muscles are working properly, blood circulation does, too. Lymph nodes drain properly, immune function is supported, and the GI tract, as well as the reproductive systems, function better.
What Muscle Groups Are Massaged Or Adjusted In Pets?
Veterinary patients with arthritis, back or hip trouble, favoring one leg or limping, or those having difficulty raising their heads are prime examples of the need for manual therapy. These mean the animal has muscles or muscle groups unable to properly function. These are the outward manifestations of such difficulty.
Most pet manual therapy or pet chiropractic focus on the spine, neck, and laterally the hips. The fingers knead the muscle or muscle group, pulling and stretching the tendons and ligaments. This warms up the fibers of the muscle in preparation for deeper work.
Deep tissue massage is then used to include friction and trigger point massage. These ease the stress on and the tightness of the muscle. The muscle is then stretched and elongated to relieve the pain of short, tight muscles.
What Pets Aren't Suited To Manual Therapy?
Senior pets, those with bone problems or diseases, and those with certain medical diseases would suffer if they were given massages. Rehab for pets does not include massage for fragile and severely ill pets.
What Are The Benefits Of Manual Therapy?
Animal massage has been in practice since the 1800s as well as in ancient China, India, and Egypt. In addition to increased range of motion and decreased pain, manual therapy decreases depression due to pain by stimulating serotonin levels, decreases scarred tissue, and aids in digestive function and reduces gas.
Call Valley Animal Rehabilitation Today!
We at Valley Animal Rehabilitation in Montclair, NJ will use pet ultrasound, exercises, underwater treadmill, and other therapies to return your pet to his or her peak good health. Contact us to learn more about pet rehabilitation.